back to rat haus | Index | Search | tree
A striking feature of our culture includes the specific set of illusions presented by commercial print and broadcast media which promote a representation of reality through omission, distortion, lack of contextual analysis, and disinforming opinion stated as obvious, incontestable fact. It is always our choice what lens we adopt to view the world and our place in it.
Lockdown only pushes the severe cases
into the future – it will not prevent them
"'People in power lie', my father once told me.... [T]he more enduring tragedy, arguably, is that we cannot trust our news media to tell us the truth about vital health issues when advertising dollars are at stake. You scratch your head and wonder how all those Trump supporters don't share your indignation at President Trump's mendacity. One answer is that they are disheartened by once-trusted media outlets who have also set the precedent of routinely lying and violating the public trust, wounding in the process our democracy, public faith in critical institutions, and the health of our children." "That [Feb 2020] letter [to the Lancet] was ostensibly to show solidarity with the workers in Wuhan, but it also had a phrase denouncing the conspiracy theories as to the non-natural origin of the pandemic. And again, it was an attempt to shut down debate. To me, that's totally antithetical to the scientific process. The scientific process should welcome scrutiny and debate on serious questions like this, and then you have a hypothesis, and you break the hypothesis, and you produce evidence and reasonable argument. They attempted to short-circuit all of that by saying, 'This is conspiracy stuff'."
Living is easy with eyes closed
Misunderstanding all you see
It's getting hard to be someone
But it all works out

12 Dec 2018: Bill Gates heads to a workshop on global health at the NIH with (left) National Institute of Allergy and Infectious Diseases Director Dr. Anthony Fauci and NIH Director Dr. Francis Collins (right).
---
Last Updated: 8:35 PM EDT 6 Aug 2020
---
Facts about Covid-19
Regular Updates on Medical and Political Developments
Fully referenced facts about Covid-19, provided by experts in the field,
to help our readers make a realistic risk assessment.
"The only means to fight the plague is honesty."
When Dr. Dan Erickson and Dr. Artin Massihi held a press conference on April 22nd about the results of testing they conducted at their urgent care facilities around Bakersfield, California, the video, uploaded by a local ABC news affiliate, went viral. After reaching five million views, YouTube took it down on the grounds that it "violated community standards." We followed up with the doctors to determine what was so dangerous about their message. What we discovered were reasonable and well-meaning professionals whose voices should be heard.
---
The map below features some of the projects Bloomberg is pursuing through his foundation including: behavioral economic nudges, blockchain identity, digital governance, labor market analytics, performance-based government contracting, and interoperable data systems. It is important to note in the upper left corner of the map his involvement with the Global Parliament of Mayors and their advancement of vaccinations as a key area of interest. Lots of data here. Lots of data to train AI.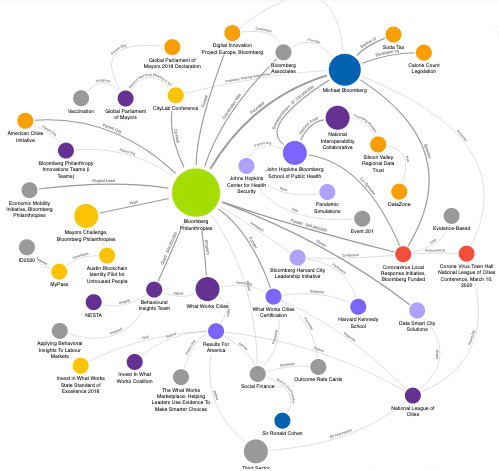 Wrench in the Gears, 17 May 2020
A Skeptical Parent's Thoughts on Digital Curriculum
Bill and Melinda Gates have leading roles to play in the unfolding drama that is Covid-19. Everything seems to be advancing according to Davos's plan. The soon-to-be trillionaire couple has provided useful cover for their fellow billionaires, the ones backstage pulling the ropes that will drop the Fourth Industrial Revolution scenery for the techno-fascist second act. Even now a chorus line of contact tracers assembles in the wings. In short order they'll take center stage – donning newly minted digital certificates of compliance and indoctrination. This post is about one of the production's underwriters, Michael Bloomberg. Bloomberg, in coordination with New York governor Andrew Cuomo, paid Johns Hopkins to choreograph this viral surveillance roll out with the Rockefeller Foundation looking on from the royal box.
---
Are public health officials and the mainstream media really telling the public scientific accurate and correct information about the Coronavirus and treatment for COVID-19? Was there any scientific or medical basis for governments to impose a lockdown? Are the government-media complex irresponsibly spreading misinformation about COVID-19? Is this misinformation harming the public and causing needless suffering and additional deaths? Apparently, yes. Computing Forever speaks with Professor Dolores Cahill an experienced biological scientist with over 25 years expertise in high-throughput protein array, antibody array, and proteomics technology development. Dr. Cahill is a scientist with a heroic sense of ethical responsibility. She dismantles many of the popular assumptions about Coronavirus repeated by politicians and public health officials.
Trying to stay "safe" is nowhere near as important as trying to stay HUMAN

This is the new morphing of Trump hatred, the new way to pretend to be murdered by Trump, and get love from all your friends, who never heard of Lynn Margulis, and who think Fauci is a savior, as opposed to a mobster. He's not a scientist. I know what a scientist is, what a scientist sounds like. They don't accuse people of murder, for one thing. I'm angry too. But as is always the case, their anger has the wheel and mine is an oppressed minority. Today, I tweeted this: Covid is code for de-humanization on an industrial scale. It is rooted in the little scorpion we once called "political correctness" which stripped out humanistic moral code and replaced it with militant stances. Millennials the target generation. The offer: "No need to FEEL."
---
Wrench in the Gears, 19 Apr 2020
A Skeptical Parent's Thoughts on Digital Curriculum
Over the past month, the gaze of investigative researchers has been fixed on GAVI, Bill Gates, Gates's associates like Fauci, and the over-size influence they are having on public health policy around Covid-19. Use the link for the map [above] to dig further into the relationships. The members of the 2012
Development Impact Bond (DIB) Working Group Report
are of particular interest, since DIBs are being considered as a way to finance vaccination campaigns. Public health is a servant of bond markets and financiers. A glance at the participants in this working group makes it clear, doses and people and death and suffering are just going to be part of their market analysis. For too many people, openly discussing concerns about vaccines remains a third-rail. But we DO have to learn how to talk about this to one another, because the stakes are too damn high to shy away from it. I also believe these campaigns and the tracking systems associated with them have been structured as an imperial enterprise and should be treated with profound caution.
---
back to rat haus | Index | Search | tree