From Conscience and The Nuremberg Code,
last updated: 11 Jun 2022:
Through 3 June 2022, the Vaccine Adverse Events Reporting System (VAERS)—the primary government-funded system for reporting adverse vaccine reactions in the U.S.—released data showing a total of 1,295,329 reports of adverse events from all age groups following COVID vaccines, including 28,714 deaths and 236,767 serious injuries between 14 Dec 2020 and 3 June 2021.

Of the 28,714 reported deaths,

18,638 cases

are attributed to Pfizer's COVID-19 vaccine,

7,524 cases

to Moderna and

2,483 cases

to Johnson & Johnson (J&J).

Excluding "

foreign reports

" to VAERS,

829,309 adverse events

, including

13,225 deaths

and

83,801 serious injuries

, were reported in the U.S. between Dec. 14, 2020, and 3 June 2022.

Foreign reports

are reports received by U.S. manufacturers from their foreign subsidiaries. Under U.S. Food and Drug Administration regulations, if a manufacturer is notified of a foreign case report that describes an event that is both serious and does not appear on the product's labeling, the manufacturer is required to submit the report to VAERS.

Of the 13,225 U.S.

deaths reported

as of June 3, 16% occurred within 24 hours of vaccination, 20% occurred within 48 hours of vaccination and 59% occurred in people who experienced an

onset of symptoms

within 48 hours of being vaccinated.

As of 4 June 2022, the WHO-sponsored European Union Drug Regulating Authorities adverse reaction website, EudraVigilance (European database of suspected adverse drug reaction reports) reported 4,416,778 injuries including 45,316 deaths and 1,992,940 serious injuries following injections of four experimental COVID-19 shots:

"The European Medicines Agency

publishes these data

so that its stakeholders, including the general public, can access information that European regulatory authorities use to review the safety of a medicine or active substance.

Transparency

is a key guiding principle of the Agency."

Through 3 June 2022, OpenVAERS has recorded 28,714 COVID Vaccine Reported Deaths / 38,219 Total Reported Deaths, 161,913 Total COVID Vaccine Reported Hospitalizations/244,747 Total VAERS Reported Hospitalizations and 1,295,327 COVID Vaccine Adverse Event Reports.
Put in place in 1990, VAERS is a voluntary reporting system that has been estimated to account for only 1% (see page 6 of the Lazarus Report) of vaccine injuries. OpenVAERS is built from the HHS data available for download at vaers.hhs.gov. The OpenVAERS Project allows browsing and searching of the reports without the need to compose an advanced search (more advanced searches can be done at medalerts.org or vaers.hhs.gov)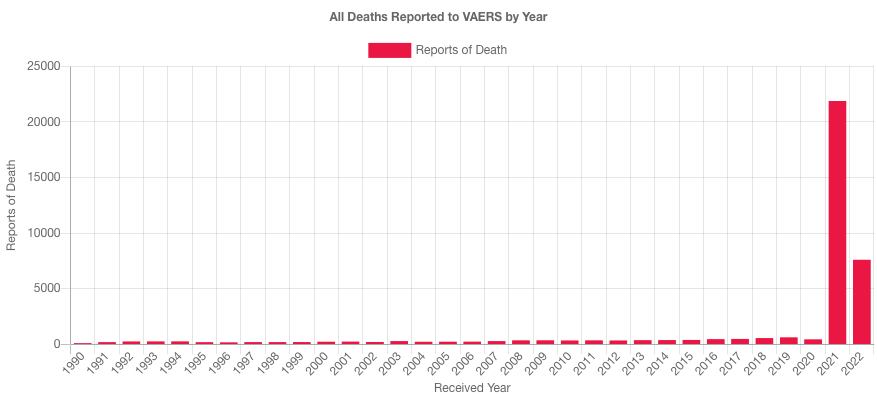 Post-vaccination deaths reported to the US VAERS system, 1990 to 2022 (
OpenVAERS
)
That these official reporting systems of Covid vaccine injury and fatality data—estimated to account for only ONE PERCENT of harms caused—are being uniformly ignored, censored, and suppressed both by corporate media and corporate truth police, reveals one level of the totalitarian agenda of subjugation and domination being pursued by what Catherine Austin Fitts calls Mr. Global.