Perched atop a massive boulder approximately 3 miles east of Wupatki,
Wukoki ("big house" in Hopi) was built entirely from blocks of Moencopi sandstone.
1.

looking up at the south-eastern-facing wall remains atop the sandstone base
2.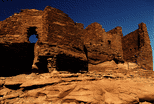 3.

further back from 1, and . . . moving off to the right to look up into the towering corner
4.

a section of wall on the southwest edge of the tower segment
5.

another window-through-window view
6.


inside what was at least 2-stories tall
7.

walking back down the steps a ways
8.

looking up at the tower from below the northeast corner
9.

a final view further back from the close-up location of 1
Wupatki Pueblo

Lomaki Pueblo
WUPATKI

MESA VERDE

AZTEC

CHACO CANYON
---