Aztec Monument, Aztec, New Mexico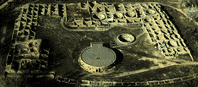 aerial photo from the Aztec brochure
The pueblos in Aztec lie on the north bank of the Animas River near Aztec, New Mexico. These structures were built around 1100, abandoned by 1150, and reoccupied by northern San Juan peoples (from Mesa Verde) during the 1200s. The excavated west ruin contains an estimated 405 rooms and 28 kivas, including the Chacoan style and northern San Juan-type kivas, in addition to the restored Great Kiva. Some of the rooms are spacious, high-ceiling Chacoan rooms. Portions of the pueblo were 3 stories high. Later the large rooms were reduced in size, older doorways were blocked up, and new floors were laid upon the debris which partially filled some of the rooms. Mesa Verdean kin-group kivas were built, and the great kiva was remodeled and restored. (sources: Anasazi Ruins of the Southwest in Color, Ferguson and Rohn, © 1987, pp. 154-155, and Aztec Site Guide.)
The following Aztec brochure detail hails from a larger one providing the cardinal frame-of-reference.
photogs created on October 29th, 1990
After already visiting Wupatki, and Mesa Verde, these images were made on Monday mid-day/early afternoon on the way to arriving in Chaco Canyon in the late afternoon. This site is a curious place nestled as it is at the edge of the present-day town with a large portion of its area still slumbering in the earth. The bursting "fall colors" in the trees lent a rich hue to the stone structures.
1.


2.


3.


window thru window

zooming halfway in

closest the zoom went
It was fun to find window/door-through-window/door shots to act as a kind of frame on whatever was at the center of this, as well as to convey the depth of structure such a shot contained. The wooden timbers supporting the rock above the window are called a lintel.
4.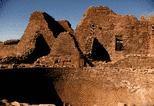 looking past Kiva toward the northwest edge
5.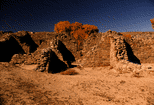 doors through walls
6.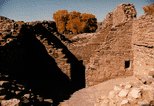 "basement" doors through walls with missing floors
7.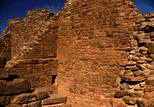 walls with traces of the missing floor
8.

corner abutment with diagnoal window
9.

Kiva with example of timber layering
10.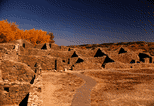 looking toward the northeast edge
11.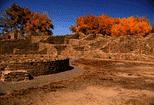 looking past Kiva to northeast corner
12.

at south end of east side facing NWN
13.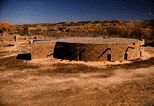 14.

restored Great Kiva (looking ENE)

NWN entrance to Great Kiva
WUPATKI

MESA VERDE

CHACO CANYON
---