Lomaki Pueblo ("pretty house"), almost 7 miles northwest of Wupatki, was built on the edge of a 3/4-mile-long earth crack in the 1190s. There were nine rooms, and the building was two stories tall in places. Earth cracks, resembling canyons, are fractures in the Kaibab limestone usually associated with earthquakes or volcanoes. The nearest permanent source of water was the Little Colorado river some 10 miles to the east.

These photogs were imaged on Thursday, October 25th (sunny) during the beginning of this southwestern sojourn, and again on Fryday, November 2 (storm approaching), while rolling back from Chaco Canyon the previous day going west to California, and trying to reach Lomaki ahead of a storm which had been brewing since the previous evening. Sunlight was not in abundance but there was a desire to create more images than the very few taken previously on October 25th. This place had a very special feeling about it: what would it have been like to have lived one's life in this dwelling, in this place during this time . . . ?
1.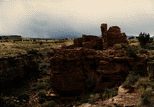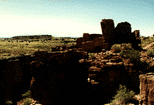 2.
looking west along the ravine, and from a similiar spot 9 days before on October 25th
3.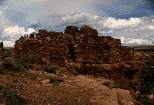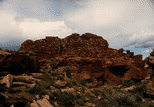 4.
looking E-N-E from the path approach, and, . . . moving down into the ravine, facing northeast
5.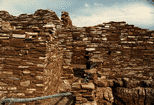 6.
facing east approaching the doorway visible in 3, and . . . zooming in on the doorway itself
7.


facing east looking out a doorway visible in 9, lower-left, and 10, middle-right
8.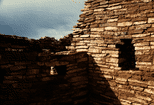 9.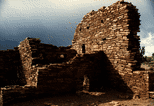 facing north of west: 8 is a closeup of the corner . . . visible in the center of 9
11.


10.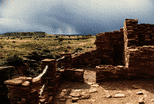 facing north (same window in 8)

on the terrace facing more west than 9
11.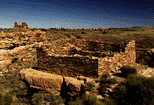 12.

taken on the sunny afternoon of 10/25, i have no record of what these two houses
are "called" in the present day. the house in 12 is visible in the upper-left
side of 11, while in both, Lomaki can be seen in the distance: 11,
above right-of-center, and 12, right side
13.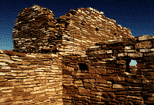 taken on the other side of the wall from 8 and 9, the geometry, color, and light
articulated by the intersecting planes of these walls was an extraordinary sight to behold.
Wupatki Pueblo

Wukoki Pueblo
---