Square Tower House,
Mesa Verde, Colorado
Following the "Ruins Road" after Far View House, Square Tower House stands against a southern-facing pocket along the eastern edge of Navajo Canyon. The present-day namesake of this place is all that remains of a multi-storied structure -- four stories tall in places along the cliff wall, then three and two -stories out and below that -- occupied between 1200 and 1300, and which originally consisted of over 80 rooms. Today, the remains of 60 rooms and 7 kivas are visible. Two of the kivas retain portions of their original roofs -- one of these, to the right of the "tower", was used as a model for its "cribbed roof" design by the Park Service with reconstruction of kiva roofs in Spruce House. As with most of the cliff houses, at the bottom of the draw below this site is a healthy spring which could have provided water for Square Tower's occupants. Hand and toe "trials", carved into the cliff's sandstone, provided access to water sources and the mesa above where fields were located. There was no path access to this dwelling.
0.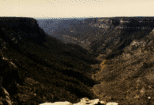 standing on a promontory looking out into Navajo Canyon facing SSE
just west of the cliff where Square Tower is
1.


"portrait" focus on the remains of the "tower"

2.

"fake wide angle" panorama shot
3.

4.
imaging photos always leaves a sense of "yeah but the film can't possibly impart
what it's like being here seeing this....", and yet ongoing is the act of creating more.
5.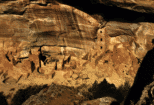 pulling back to a less zoom'd-in version of the above panorama
6.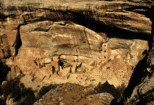 non-zoom'd view
Far View House

Cliff Palace

Spruce House
WUPATKI

MESA VERDE

AZTEC

CHACO CANYON
---