Pueblo del Arroyo,
Chaco Canyon, San Juan Basin, New Mexico
Arriving at Pueblo del Arroyo in the early afternoon after dwelling in the immensity of Pueblo Bonito, the differences in this place were various and distinct, the major one of which was that this site is the only one built out by the river, and not near the canyon walls as the others all were. The trail map of the sites guides. The images below are listed in the order in which they were snapped.
1.


the symmetry of walls and windows was a constant motif (facing east)
2.

3.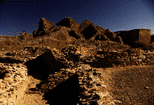 stepping back (west) from postion 1 . . .,
and further west and to the north

4.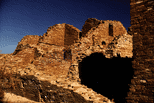 now further along the west side moving south toward the river,
5.

but the center of 4 called out asking for more attention to its detail
6.

now along the south side looking up where a balcony or roof once was
7.

8.

further east the panorama suggested a far view, . . . followed by one closer in
9.

after the trail enters back into the site, these kivas presented themselves;
10.

11.


then this marvelous view facing east . . .

and moving south, seeing Pueblo Bonito
12.

on the trail skirting the eastern edge, looking back up to the other side of 10-11's wall
13.

again being swept up into the towering heights of the walls
14.

nearing the conclusion of the trail, facing south again toward a group of kivas.
Chetro Ketl

Pueblo Bonito

Casa Chiquita

Kin Kletso

Casa Rinconada
WUPATKI

MESA VERDE

AZTEC

CHACO CANYON
---