back to N-Weps Ult Evil | radiation | rat haus | Index | Search | tree
Nuclear Weapons – The Ultimate Evil
Critical Analysis, Resources, Updates
Last Updated: 22 Feb 2018
Herein are assembled an expanding catalog/archive of materials involving the Back From The Brink campaign, chronicling its development and growth. The Campaign's fundamental purpose is to pursue The Call for the U.S. to lead negotiations with the other nuclear weapon armed states to eliminate nuclear weapons. This campaign is modeled on the Freeze movement and seeks to leverage a moment similar to the early 1980's when Ronald Reagan's hawkish plans for nuclear war fighting scared people to death and made them open to the idea that they needed to take action. The Freeze was organized around a simple call to stop the arms race in a form that people could take to any organization they worked with, providing a vehicle for involvement and action.
"We [the family of hibakusha] have stood in solidarity with those harmed by the production and testing of these horrific weapons around the world. People from places with long-forgotten names, like
Mururoa
,
Ekker
,
Semipalatinsk
,
Maralinga
,
Bikini
. People whose lands and seas were irradiated, whose bodies were experimented upon, whose cultures were forever disrupted. We were not content to be victims. We refused to wait for an immediate fiery end or the slow poisoning of our world. We refused to sit idly in terror as the so-called great powers took us past nuclear dusk and brought us recklessly close to nuclear midnight. We rose up. We shared our stories of survival. We said:
humanity and nuclear weapons cannot coexist.
"
on behalf of the International Campaign to Abolish Nuclear Weapons,
recipient of the 2017 Nobel Peace Prize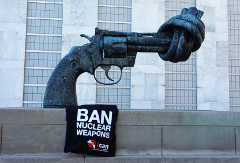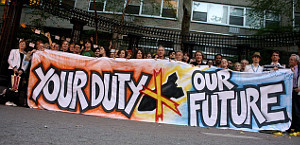 back to N-Weps Ult Evil | radiation | rat haus | Index | Search | tree