Recommended Sources
for
John Trudell's book,
Lines from a Mined Mind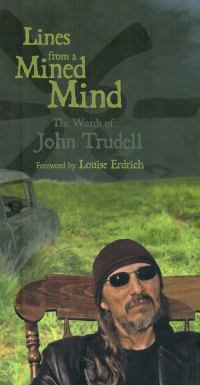 Given the Corporate State Interlock between entities like the CIA and amazon.com, you are urged to not cooperate with this system by accessing alternate sources to read this and any other book.
One way is borrow the book through your local library. Look it up through worldcat.org, "the world's largest network of library content and services. WorldCat libraries are dedicated to providing access to their resources on the Web, where most people start their search for information." Multiple editions are listed.
Another way is to purchase the book from an independent bookseller, local or otherwise. Specific entries are available at IndieBound for the 2008 and 2010 (Large Print 16pt) editions of Lines from a Mined Mind. Goodreads is another nexus for finding books and 10-plus other outlets for purchase.