p r e s e n t s
How the West Caused the Crisis in Ukraine
This is an urgent appeal to pay attention to the crisis in Ukraine where the two largest nuclear powers, the US and Russia are in direct and escalating confrontation. Mearsheimer states emphatically that in the prevailing wisdom in the West, the Ukraine crisis is blamed almost entirely on Russian aggression. But this account is wrong says Mearsheimer: The United States and its European allies share most of the responsibility for the crisis. Questions in this Q & A period range from who engineered the February 2014 Coup in Ukraine, to what role the Neo-Nazis play.
Credits: Thanks to Dale Lehman, WZRD Chicago, for the recording
Dan Cohen
, founder of the nonprofit organization
Music & Memory
, confronts a broken healthcare system to demonstrate music's ability to combat memory loss and restore a deep sense of self to those suffering from it. The political system we find ourselves navigating our lives within cannot make life healthier because all such agendas as so-called health care are based on profit, not human needs.
p r e s e n t s
Symposium: The Dynamics
of Possible Nuclear Extinction
February 28 to March 1, 2015 at The New York Academy of Medicine
A unique, two-day symposium will be held featuring an international panel of leading experts in disarmament, political science, existential risk, anthropology, medicine, nuclear weapons and other nuclear issues. The public is welcome.
Russia and the U.S. possess 94% of the 16,400 nuclear weapons in the global nuclear arsenal. The U.S. maintains its first strike winnable nuclear war policy, and both countries have raised their nuclear arsenals to a higher state of alert because of the situation in the Ukraine. Furthermore it has just been announced that the administration has plans to replace every nuclear warhead and their delivery systems via ship, submarine, missile and plane, at a cost of one trillion dollars over the next thirty years. This symposium will address the following issues:
What are the human and technological factors that could precipitate a nuclear war between Russia and the U.S.; how many times have we come close to nuclear war and how long will our luck hold?
What are the ongoing technological and financial developments relevant to the nuclear weapons arsenals of the US and Russia?
What problems are associated with lateral proliferation of nuclear weapons via strenuous corporate marketing of nuclear technology?
What are the medical and environmental consequences of either a small or large scale nuclear war?
What are the underlying philosophical, political, and ideological dynamics that have brought life on earth to the brink of extinction?
How can we assess this situation from an anthropological perspective?
What is the pathology within the present political situation that could lead us to extinction?
How can this nuclear pathology be cured?
8 December 2014
Fifteenth Anniversary of Verdict in the Martin Luther King Murder Trial
THE Trial of the 20th Century
F
ifteen
years
ago
today
the jury reached its verdict in the only trial ever held for the murder of Dr. Martin Luther King, Jr. The trial was conducted in the Circuit Court of Shelby County, Memphis, Tennessee. It began on November 15 and lasted fourteen days. The Plaintiffs were Coretta Scott King, Martin Luther King, III, Bernice King, Dexter Scott King and Yolanda King. The Defendants were Loyd Jowers and Other Unknown Conspirators. This is the most important trial of the 20th century, and yet most people have never heard of it.
The German freelance journalist/solidarity activist Martin Lejeune is now in Gaza writing a diary named "The Days of Oil and Za'atar - Live Blog from Gaza Under Attack" beginning on July 22. Entries are in German, English, with some being translated to Arabic. Recent addition: August 2 - "The fighter of the Hamas are our heroes."
back online: W

orldwatchers

A

rchive


A Tribute To Mae Brussell

an exemplar and the most prolific anti-fascist political researcher of the latter half of the 20th Century.
"Our weapons dictate what we are to do. They force us into awful corners.
They give us our living, they sustain our economy, they bolster up our politicians,
they sell our mass media, in short we live by them.
But if they continue to rule us we will also most surely die by them."
Thomas Merton, Cold War Letters (Maryknoll, N.Y.: Orbis Books, 2006), p. 65.
10 June 2013: Fifty years ago President Kennedy gave the commencement address to the graduating class at American University. In his book, The Improbable Triumvirate: John F. Kennedy, Pope John, Nikita Khrushchev, Saturday Review editor Norman Cousins summed up the significance of that remarkable speech: "At American University on June 10, 1963, President Kennedy proposed an end to the Cold War." Khrushchev called the American University Address "the greatest speech by any American President since Roosevelt." This is the real jubilee of 2013, not 22 November.

---
---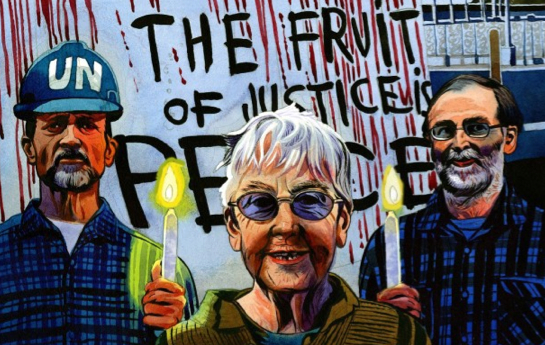 "We are truly human when we act responsibly to restore harmony and act with love and compassion to restore truth,
transparency and the equitable distribution of the resources endowed by our common Creator."
—Sister Megan Rice
"We were fulfilling our right and duty according to the US-signed Nuremberg Charter that if one knows of one's government committing a war crime, one has a right and a duty to take steps to try to stop that crime."
—Greg Boertje-Obed
"In heaven Jesus has no arsenal of nuclear weapons. And as we pray in the Our Father prayer:
'Here on Earth as it is in heaven.' ... Nuclear weapons are a product of hell and we need to send them back there."
—Michael Walli
"Letters from a Georgia Jail: Anti-Nuclear Activists Await Sentencing,"
by David Cook, Religion & Politics, January 22, 2014
"By leaking a handful of NSA documents, Edward Snowden has given us a glimpse of future U.S. global policy and the changing architecture of power on this planet." AND must listen: 35 min. 7/24/13 McCoy I-view on Jeff Blankfort's Takes on the World prog
+ Maria Gilardin's 29 min. broadcast quality production of same from TUCradio.org.
---
But then it must be asked if we can remove cultural value from one part of our lives without destroying it also in the other parts. Can we justify secrecy, lying, and burglary in our so-called intelligence organizations and yet preserve openness, honesty, and devotion to principle in the rest of our government? Can we subsidize mayhem in the military establishment and yet have peace, order, and respect for human life in the streets? Can we degrade all forms of essential work and yet expect arts and graces to flourish on weekends? And can we ignore all questions of value on the farm and yet have them answered affirmatively in the grocery store and the household?
The answer is that, though such distinctions can be made theoretically, they cannot be preserved in practice. Values may be corrupted or abolished in only one discipline at the start, but the damage must sooner or later spread to all; it can no more be confined than air pollution. If we corrupt agriculture we corrupt culture, for in nature and within certain invariable social necessities we are one body, and what afflicts the hand will afflict the brain.
---
6 June 2013—Edward Snowden[1][2][3][4]: I'm just another guy who sits there, day to day, in the office, watches what's happening, and goes, "This is something that's not our place to decide. The public needs to decide whether these [surveillance] programs and policies are right or wrong." And I'm willing to go on the record to defend the authenticity of them and say, "I didn't change these. I didn't modify the story. This is the truth. This is what's happening. You should decide whether we need to be doing this."
Yeah, I could be, you know, rendered by the CIA. I could have people come after me or any of their third-party partners.... And that's a fear I'll live under for the rest of my life, however long that happens to be. You can't come forward against the world's most powerful intelligence agencies and be completely free from risk, because they're such powerful adversaries that no one can meaningfully oppose them. If they want to get you, they'll get you, in time.
---
We forget ... that violence is so securely founded among us—in war, in forms of land use, in various methods of economic "growth" and "development"—because it is immensely profitable. People do not become wealthy by treating one another or the world kindly and with respect. Do we not need to remember this? Do we have a single eminent leader who would dare to remind us?